In December I pledged that in 2013 I will create at least 1 item from my Pinterest boards. So the other day I created a new board and specifically moved some items from my "Getting Crafty" board to my NEW board – "To Do in 2013!"
And then, WhimseyBox announced their Rediscover Craft in 2013 where you can sign up for weekly e-mails for inspiration. I am so excited about it and can't wait to see what kind of ideas they have! If you have not heard of WhimseyBox I have blogged about them previously (here). It is an awesome subscription program – each month you will receive a beautifully wrapped box of pure fun and crafty goodness that stimulates the senses!  I'm a little behind on creating things from my packages so I plan to incorporate that into my year of creativity!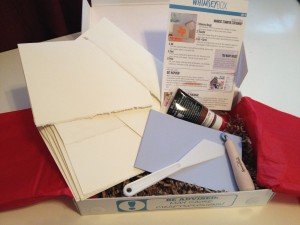 This will be the year that I make my Pinterest Dreams come True (as well as the dreams of my friends who pin and pin and pin…)!
This weekend I have plans to start on some Valentine crafts – one of which will come from these super cute glass heart ornaments (leftovers from Christmas that are PERFECT for February 14th!!)
What are you crafting this year??