As a mom of five young kids, it's hard for my friend Heather L. to get dinner on the table and stay sane. With a slow cooker and this fantastically easy recipe you can whip up dinner for your busy family in no time! With 1 slow cooker, 2 ingredients and a little bit of your time you can create a recipe that can be used in several ways.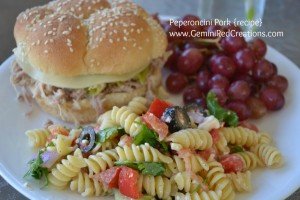 Items needed:
Slow Cooker
Pork roast (around 4lbs)
1 16oz. jar of Golden Greek Peperoncini
Here are the two ingredients you will need – if you buy the Pork Sirloin Tip Roasts from Costco in a four pack you can use two and freeze two (each one weighs about 2 lbs.). There are probably a multitude of different pork cuts that could work well for this.  Heather used to use pork loin chops until she realized these roasts were almost half the price. The only difference is they need to cook a little longer than the thinner cuts of meat.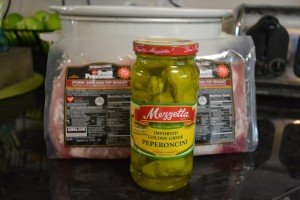 Okay, now on to the instructions. Make sure and pay close attention because this is where it gets tricky. Turn your slow cooker on to your desired heat setting (high or low) depending on how much time you have. A personal note from Heather: "I usually cook my meat on high, cause let's be honest, no matter how many times I remind myself, it's usually somewhere around the 11 o'clock hour when my youngest has gone down for a nap, that I think, 'Oh shoot!  I was supposed to start the slow cooker.'" So select your temperature of preference (or necessity), then add the meat. Pour the jar of peperoncini's on top. Put on the lid and done. Then it's time to read a book, eat some ice cream and take a break from all the exertion of making dinner. Hopefully she didn't wear you out too much.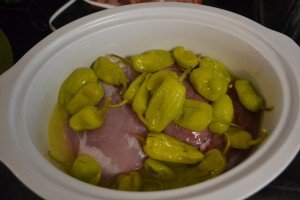 So for this pork it was cooked in just under six hours on high. If you have the time, you could cook it longer on low. You can also cook it straight from the freezer if you have more time (around 8-10 hours on high).
The goal is to get it to be so tender, that basically your fork will shred it apart without ever having to take it out of the crock pot to cut. To see if the pork is ready, stick a fork in it and pull up. If it all falls away with no effort, then it's ready to shred. At this point, right before shredding the meat, take the tops off all the peppers. They are so moist the tops just pop off. You can cut them off before cooking, but it can be tedious and it only takes a minute to do them at this point. You can also leave them on but they are a little harder than the rest of the pepper, and many people don't care for that portion of the pepper.
Take a fork in each hand and shred it right in the slow cooker. Because it's so tender, you aren't actually cutting anything, just pulling it apart. The peppers will get somewhat chopped up in the process as well.
 Once it's been shredded it will look something like this: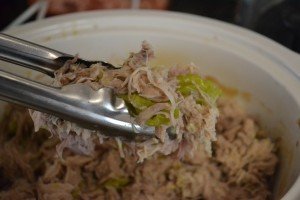 And voila!! You are done. Super simple and delicious. Heather and her family like to eat their Peperocini Pork on a bun with provolone cheese. Havarti, Swiss, or any of the other white cheeses would also be tasty with it. Add some fun sides like Greek pasta salad and grapes and you've got a great meal. Another way you can enjoy it is over quinoa or mashed potatoes or even in burritos or tacos. Besides the simplicity of making it, its great that it can be used in so many different meals. Enjoy!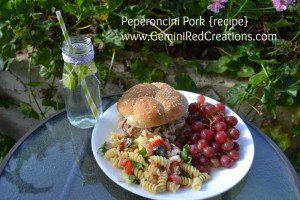 Food for Thought:  Take the time to have family dinner together. In this increasingly hectic and busy world spending time nightly will strengthen families and that the positive effects of that will trickle into all the other aspects of everyone's lives. If you love this post stay tuned for more from my friend Heather over at The Healing Homemaker.
What is your favorite easy slow cooker meal?  Do you and your family eat together during the week?