Nothing like a little backstory to get this blog post started off right. Heather started a group a little over a year and half ago that's sole purpose was to trade craft supplies from a craft company's grab boxes. What started as trading supplies soon turned to asking crafting advice, then life advice and before we knew it we had a fantastic little group of friends. We've seen each other through some rough times as well as some fantastic ones. It's been a great blessing in my life and I am so grateful to her for it. So a small shout out to Heather! Now back to why she invited me here. 🙂
I am super excited to get to blog today about one of my favorite things – dōTERRA Essential Oils!  A couple of years ago I had a friend start using Essential Oils.  She invited me to a class and I honestly had no idea what they were but I wasn't really interested because I felt content in our health choices at the time.  But then small things would happen where western medicine would fail me and I would call her to see if she had anything that could help us.  After doing this a number of times, I decided to take the plunge and buy an intro kit to really try them out for myself.  Two years later and I am still amazed sometimes at how well they work!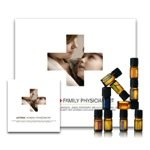 For me there are a few basic reasons that I love Essential Oils. First is that I love having the power to help my own family when they are sick. I like being able to tend to them without always running to the doctor's office or reaching for medicine. It has saved us a lot of time and money. Even with five young kids at home we rarely ever have to go to the doctors. In the last year I think we went once for well-child check-ups and I have bought zero medications. It feels good to be in control of what goes into my kids bodies as well. I also really like the dōTERRA company. I believe they live by their strict purity standards. They have tons of amazing promotions as well as a loyalty rewards program that offers some great rewards.

A quick plunge into what exactly Essential Oils are for those who were like me and had no idea. The first thing is they don't feel oily. If you put a drop in your hand it will absorb in about 30 seconds and you would no longer be able to tell it was ever there. They are quick and effective like that. Essential Oils are derived from living plants so they are powerful. For a reference point, to equal one drop of peppermint oil you would need to have 28 cups of peppermint tea. Herbs are made from dead plants and therefore a much lower potency. The oils are used in three basic ways, aromatically, internally, and externally. Aromatically means diffusing them or even just putting a drop in your hand to breathe it in. Internally you can put a drop under your tongue or add it to your water. All Essential Oils that are safe to take internally will have a nutrition supplements guide on them. Lastly and one of the biggest ways I personally use them is externally. A common place to put them is on the soles of your feet. Your feet have the largest pores in your body, so they are able to quickly pull the oils into your bloodstream. But they can also be placed wherever it is you have a need for them. If my stomach hurts I rub some on my belly.  If it's my head, I place them on my temples, etc. There are so many wonderful uses for these oils!
Today I wanted to give you a chance to try some of these oils for yourself! So we are going to be giving away a cute wooden gift box with 5mL bottles of On Guard, Peppermint & Wild Orange Essential Oils. Let me tell you a few quick things about each one and why they are so great.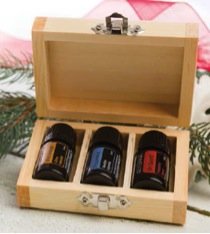 On Guard is one of dōTERRA's top sellers. It's formulated to help support healthy immune functions. At the first sign of sickness I start diffusing this one as well as putting it on everyone's feet. Because kids share germs easily we tend to catch everything, but I feel like this has helped us shorten the sickness and get healthy again quickly. It has also helped us limit the number of family members getting sick to only a few of us will get a cold rather than the whole family. Another amazing use for On Guard is on a sore throat whether from strep or a cold. At the first sign of any throat problems put a drop under your tongue and it will help sooth your throat and take away the pain. Many people take a drop under their tongue daily to help them avoid even getting sick.
Peppermint is another powerhouse essential oil. This one has so many great uses. The first is as a digestive aid. Rub a drop or two on your stomach (diluted with a carrier oil for sensitive skin) for digestive problems. A few drops on your temples and back of neck will help take away a headache. The smell alone will help invigorate the senses, so place a few drops in your hands in cupping position and breathe it in. It can also help with temporary nausea from car sickness or motion sickness.  A drop under the tongue will open up the sinus and make you more alert.
Wild Orange is great as a hand sanitizer. A drop on your palm, rub your hands together and now they are sanitized without the alcohol or other chemicals normally found in hand sanitizers. I also really like to diffuse this one since it smells amazing. As with most of the citrus oils, it's a mood up lifter and makes you feel more energetic and happy.  Plus, I love to add a drop or two to my famous orange rolls. Yum!
Hopefully this has got you excited to explore the world of Essential Oils and all they can offer you and your family. I've listed my contact information below if you would like to reach me about any questions you have. Send me an email if you'd like to try a sample of something. And stay tuned since after we announce the winner, I will have some fabulous getting started promotions for those interested in purchasing some Essential Oils. I'd love to hear your comments! Good luck in the giveaway!
If you want to learn more about dōTERRA Essential Oils, please feel free to check out my website or Facebook page or email me.
Thanks!
-Heather L.