Besides being busy with my full-time job, including a trip to CT to one of our other offices, I've been busy working on projects.
Non-slip headbands
PJ Pants
A birthday gift set that included an apron (might be my favorite one yet), a zipper pouch, a sleeve for a hot flat iron or curling iron, and a cute bracelet made with rhinestone scissors
Two 5 foot long fabric snakes
Upcycled a friend's favorite t-shirt into a pillow
A tracing of the pawprint of a great dog I'm following on Facebook (Rita the Naked Pit Bull)
A t-shirt with an awesome quote from Audrey Heburn
A little girl's t-shirt with the silhouette of a little girl in her mother's shoes
Whipped up a few pairs of earrings and made some bracelets
Stocked up on Pura Vida bracelets – bracelets you can wear with anything and many of which have great stories
And busy, busy, busy taking pictures of all my projects so I can post them on my website
One accomplishment, that I couldn't do alone was being featured on More than Mommies blog today. I hope you will head over and check it out. There is a lot of great information shared on More than Mommies blog!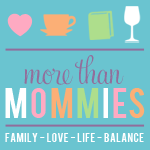 ---
Thank you so much to this month's sponsor of GeminiRed Creations: