When I think of Strawberry Shortcake it makes me think of my Grammy who passed away last year. I remember her making it often. It's wasn't quite like this recipe I'm about to share, but nonetheless it makes me have fond memories of her!  We miss her dearly.
Even though Strawberry Shortcake is not my "go to" dessert, I know it is a fan favorite among many people. And, why not spice things up a bit by baking it in an iron skillet and add some raspberries to the mix! I bet you could even add blueberries to make it a Triple Berry Shortcake! Hey…I might have just invented a recipe (I highly doubt that's true, but let's go with it.)
You will need:
1 quart strawberries
1 pint raspberry (optional)
1/4 cup of sugar
2 tsp lemon juice
For the topping:
2-1/3 cups Original Bisquick™ mix
1/2 cup milk
3 tablespoons sugar
3 tablespoons butter or margarine, melted
1/2 cup whipping cream
Slice strawberries and place in large bowl. Place rasberries in the bowl also. Add in sugar and squeeze lemon. Cover and set aside.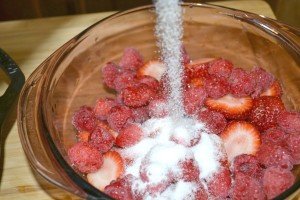 Preheat oven to 425.
In medium bowl, stir Bisquick mix, milk, 3 tablespoons sugar and the butter until soft dough forms.
Pour the strawberry mix in iron skillet.
Drop 6 heaping scoops of the batter on top.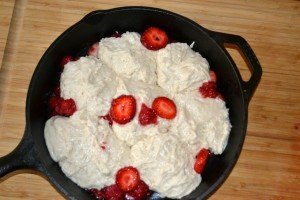 Bake in oven for 10-12 minutes or until golden brown.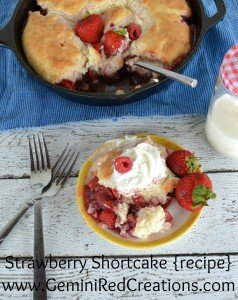 Remove from oven and serve. Top with whipped topping. Enjoy!
Do you have any great recipe memories?