When Pick Your Plum has a birthday they really go all out! They invited ALL of us to their party, they are offering SIX fun deals instead of ONE, and they are offering you 20% in addition to the already great prices.
You will want to show up for this party…RIGHT.ON.TIME! It will be standing room only, people will be rushing to get in and snag the cute fun deals and being "fashionably late" may mean you make it to the party at all.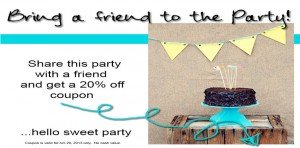 Use coupon code BIRTHDAYPLUMS to save 20%
Here is a sneak peek at 3 of the 6 deals…you won't want to miss out. Click here to go shopping!
This post contains affiliate links, and I may be compensated for any purchases made via that link. GeminiRed Creations 
disclosure policy
.