Are you looking for a great summer salad recipe? Summer yummy and fresh? This is a really good one that I got years ago at a pot luck.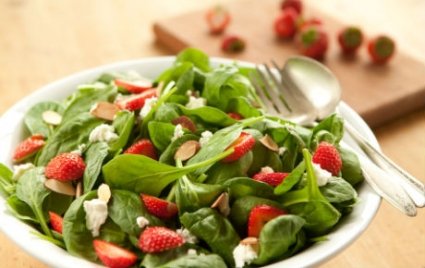 This is a delicious Spinach & Strawberry Salad. It may seem like a lot since you have to "cook" the dressing, but it's quite quick and easy and you can make it just before your guests arrive! If you would like to take the salad with you – it's best to carry the salad separate from the dressing and then pour it over once you get to your destination (shake it up well).  And, if you have access to a microwave you could heat it up for a few seconds.
**Oops…was supposed to post this a while ago (when it was actually in the midst of summer), but alas it will post today on this very last day of summer 2014!!
Do you have a yummy summer salad? Be sure to share!