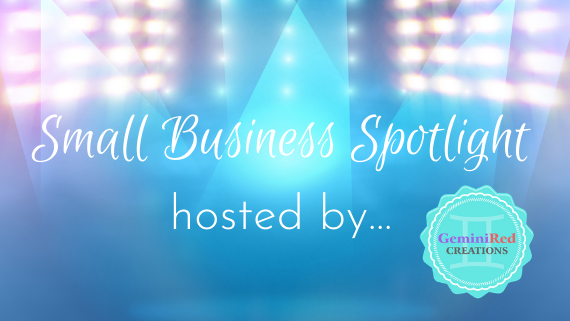 This Sunday I'm giving you all a special treat – mini spotlights of some of my favorite shops!  These girls and I are in a Facebook networking group together (okay…maybe it's really a socializing group, but you get the picture).  We are very supportive of each other and I've gotten to know some really great people through this group.  And, today I think you should get to know them too!
Trish at Lemon Drop Creations
Trish is a mom and a grandmom from Alabama (she's really only a couple hours from me and I keep threatening that one day I'm going to hop in the car and head over to her house to learn all her tricks).  Trish make the most amazing zipper pouches, travel bags, handbags and the like.  You probably remember when I featured the bags she made for me a couple months ago!
Learn more about Trish's lovely handbags on Facebook – Lemon Drop Creations!
Sabrina at Hugs & Love by Sabrina
Sabrina is a Mom to a wonderful little girl and fur babies, wife to a TN Army National Guard Soldier, a daughter, a sister, a niece and a granddaughter. In her words…"I am me! "
If Sabrina is not running around chasing her little girl, she is either reading or being creative. Sabrina loves to be creative and try new things, whether it is a new recipe or a new pattern. Her creations reflect her personality and what she enjoys. She likes to try new ideas thus the reason of variety in her shop. If you would like something, just ask, she is willing to try anything once. 😉
Check out Sabrina's creations on Facebook, Twitter, Etsy, and Pinterest
Julie at The Doodling Bug
The Doodling Bug was started by Julie Cox in 2003 at her first "Stop & Shop", and in 2011 grew into an adorable shoppe at the North Carolina State Fairgrounds.
We sell fabulous gifts and accessories for you and your home.  We're obsessed with finding the latest boutique trends at reasonable prices!  From owls to anchors and skulls to chevron, we love it all.  Stop by and see us if you are in the area, or visit us online- we ship daily.
Be sure to find Julie and the Doodling Bug at these online locations: Website; Facebook; Twitter; Instagram; Pinterest
Amanda at Joyful Home Designs
Amanda has been "crafty" for as long as she remember. Her granny and mom were great teachers, and she used to love going to craft fairs with her mom. Her mom would always say, "I can make that!". She could, and she taught Amanda.
Joyful Home Designs started when all Amanda's friends started having babies! She would make gifts for baby showers, and next thing she knew, her friends were encouraging her to open an Etsy shop. Amanda loves to sew, and put vinyl on things. Amanda's best sellers are her premium cash budgeting envelope wallets, ear bud zippy cases, vinyl monograms, and established signs. She loves bright colors, and making fun, functional items that bring just a little JOY into your home.  Amanda would love to create a one of a kind item for you!
Don't miss out on visiting her on Facebook, Twitter, Etsy and Pinterest.
Beth at Busy Bees Gifts
Beth is a Midwest transplant to North Carolina who remembers doing her first craft show before she was old enough to drive.  But Beth's parents always told her that art was a hobby not a career, so off to college she went getting a degree in something safe: Criminal Justice (Bethe gives that a big "ha!").  Following an unexpected layoff, Beth spent more time nurturing her passion for crafting while waiting for a new job opportunity to present itself.  Little did Beth know, it had and the layoff  turned out to be a blessing in disguise.  "Busy Bees Gifts" was created on a whim.  As Beth says:  "Note to self…put more thought into a business name next time"…and just over 2 years later it has grown into her full-time job, complete with an off-site studio where she is surrounded by amazing people who share a passion for creativity.  Beth loves having a hand in creating a special gift, watching a blank wall come to life with just the right placements of color, or seeing the light in her customer's eyes when their doodle becomes an actual item.  Beth's parents have eaten a bit of crow for what they said all those years ago and, along with her husband, all of whom are now her biggest fans and supporters.  Beth says she wouldn't be here without them.  The biggest lesson that she has learned is to take a leap of faith and when one door closes, be ready, because the next one that opens may be better than you ever expected.
If you would like to know more about Beth you can on Facebook, Etsy and Pinterest.
Erica at Yesterday's Dreams
Erica is a 30 year old stay at home mother of two, a 5 year old girl and 3 year old boy. After they've burned through the crazies of the day Erica likes to find time to sit down and relax at her sewing machine to create. Erica has always been exposed to sewing because her mother was constantly sewing clothes, costumes, and other fun things for Erica and her brother. When Erica became an adult she decided it was a great outlet and jumped in. She started with making some gifts and when people really liked them Erica thought why not make more and see if others think they are cool. Luckily people did (or are very polite) and Erica got Yesterday's Dreams off the ground. She loves making things and seeing the joy on people's faces when they get a handmade creation. Erica is willing to try anything and in doing so really gets to learn a lot of new techniques and broaden my abilities!
You can find Erica's creations on Facebook.
I have personally purchased items from almost all of these shops, and from those I have not yet shopped – I have my eyes on a few things.  Each item I have received has been top quality!  There is something to be said for buying local or from another small business.  The time, energy and care that goes into a small business makes shopping with them so much better than going into a big box store!  Please help me support these businesses, as well as other small businesses.
---
In case you have missed some previous Sunday/Small Business Spotlights (you can catch up on them here):
May 5, 2013 – Blue Mark Studios
April 7, 2013 – Stampin' Up (with Brain)
March 17, 2013 – Circle of Love Wreaths and Crafts
March 10, 2013 – Photobooth Planet
March 3, 2013 – Jennifer's Jewels
February 10, 2013 – GeminiRed Creations
And, if you want your business to be in the Spotlight, please complete the Small Business Spotlight Form, which is on the page for Advertising & Sponsorship. There are two forms depending on whether your business is handmade or not.
*We love comments on our blog, so please show us some love by leaving a comment below. Thanks*