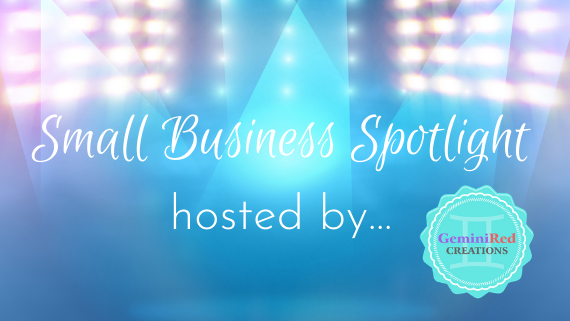 Facebook did it again!  Because of a great networking group I'm in, I met Patricia from Circle of Love Wreaths and Crafts.  She has created some really lovely gift certificates for me to use for online events and I think everyone should know about this awesome shop and the crafty girl who runs it!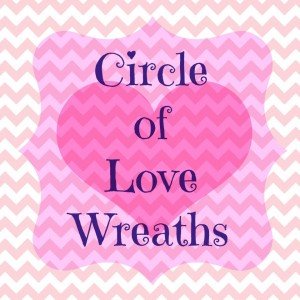 GeminiRed Creations: When did you start your business?
Patricia: June 16, 2011
GeminiRed Creations: Why did your start your business?
Patricia: I LOVE crafting and creating things. It all started with when my friend had showed me a rag wreath she made, she gave me the link to "how to make a rag wreath" .. My husband is in the Coast Guard so my very first wreath was a Coast Guard wreath. Then I started making wreaths for my friends babies, then once I started getting requests, I started my Facebook page… Now I make custom team and military rag wreaths, custom glass etching, jewelry stamping, distressed frames & est. signs, hand painted canvas', hand painted mugs & coasters… the list goes on and on! If you see something you want, just ask!
GeminiRed Creations:  What inspires you?
Patricia: Mostly Pinterest!! I have a lot of friends that find something they like, text me and say "Can you make this for me?!" I usually say YES! 🙂
GeminiRed Creations: Does a special memory come to mind when you work with a certain item, color, print?
Patricia: Military uniforms have such a special place in my heart. My husband is in the Coast Guard and I know how hard it is being a stay at home mom and a military wife. I know how hard deployments are, even if it's only for a couple of days.
GeminiRed Creations: Are other people in your family artistic, crafty, etc?
Patricia: My nephew is INCREDIBLY talented. He lays tile professionally and his work is so beautiful! He also makes adirondack chairs out of snow skiis!! They are really neat looking!
GeminiRed Creations: Does anyone else in your family own a business?  Or any family work with you?
Patricia: I'm the only one! 🙂 My husband helps me sometimes!
GeminiRed Creations: Do you have a motto or favorite quote?
Patricia: My favorite quote is: For beautiful eyes, look for the good in others; for beautiful lips, speak only words of kindness; and for poise, walk with the knowledge that you are never alone. ~Audrey Hepburn
GeminiRed Creations: What is your business mission statement or tagline?
Patricia: Personalizing the world one craft at a time!!
GeminiRed Creations: If you wake up in the morning and don't want to work on something you know you need to finish – what makes you forge ahead?
Patricia: The instant gratification. I am always crafting. I don't feel that my day is complete unless I make something or at least start on something!!
GeminiRed Creations: What has been your favorite project?
Patricia: Definitely my distressed frames. I LOVE them!! And they are such a hit!!
I think everyone should know that Patricia is a stay at home mom, a military wife, and a southern belle which means she loves to personalize everything!  She's passionate about creating things and coming up with new ideas!  (If I ever make a trip to her area in FL, I'm stopping by and crashing her craft room to see what's going on!)
Want to cyber stalk all the great things Patricia is doing?
Facebook – Circle of Love Wreaths and Crafts
Pinterest – PattyMayo84
Check out the awesome works of art coming out of Circle of Love Wreaths and Crafts!
Here are some glowing testimonials from customers who love what Patricia has done for them:
Shanel E. Morrow ~ I have two wreaths and LOVE them! My FSU wreath stays up all thru football season, only coming down to be temporarily replaced by my Halloween wreath. I expect to have many many more! You are so talented and creative, and the detail in each wreath is impressive. Thank you!
April Polley Hart ~ I have ordered 3 wreaths, they have all been and the ones that were gifts were loved by the recipients! I also have a mason jar and family plate and Christmas hanging. CAN NOT rave enough about how gorgeous her products always turn out!
Lisa Fitzgerald ~ We have ordered two wreaths and we are about to order a third 🙂 They are gorgeous! Top that with the exceptional "one on one" attention you revive while customizing your order and you have Circle of Love Wreaths! If you want a beautiful wreath made perfectly for you…order now! You won't regret it!! BIGGEST FAN :)))
Gabriel N Anna Rodriguez ~ Ordered a Christmas wreath and I absolutely loved it!
---
To check out previous Sunday Spotlights you may have missed:
March 10, 2013 – Photobooth Planet
March 3, 2013 – Jennifer's Jewels
February 17, 2013 – Print My
February 10, 2013 – GeminiRed Creations
February 3, 2013 – The Southern Charm Co.
And, if you want your business to be in the Spotlight, please complete the Sunday Spotlight Form.