My friend, Jennifer V, the wood working maven, created the most amazing favors for her wedding, and lucky for us she chronicled the event just for us!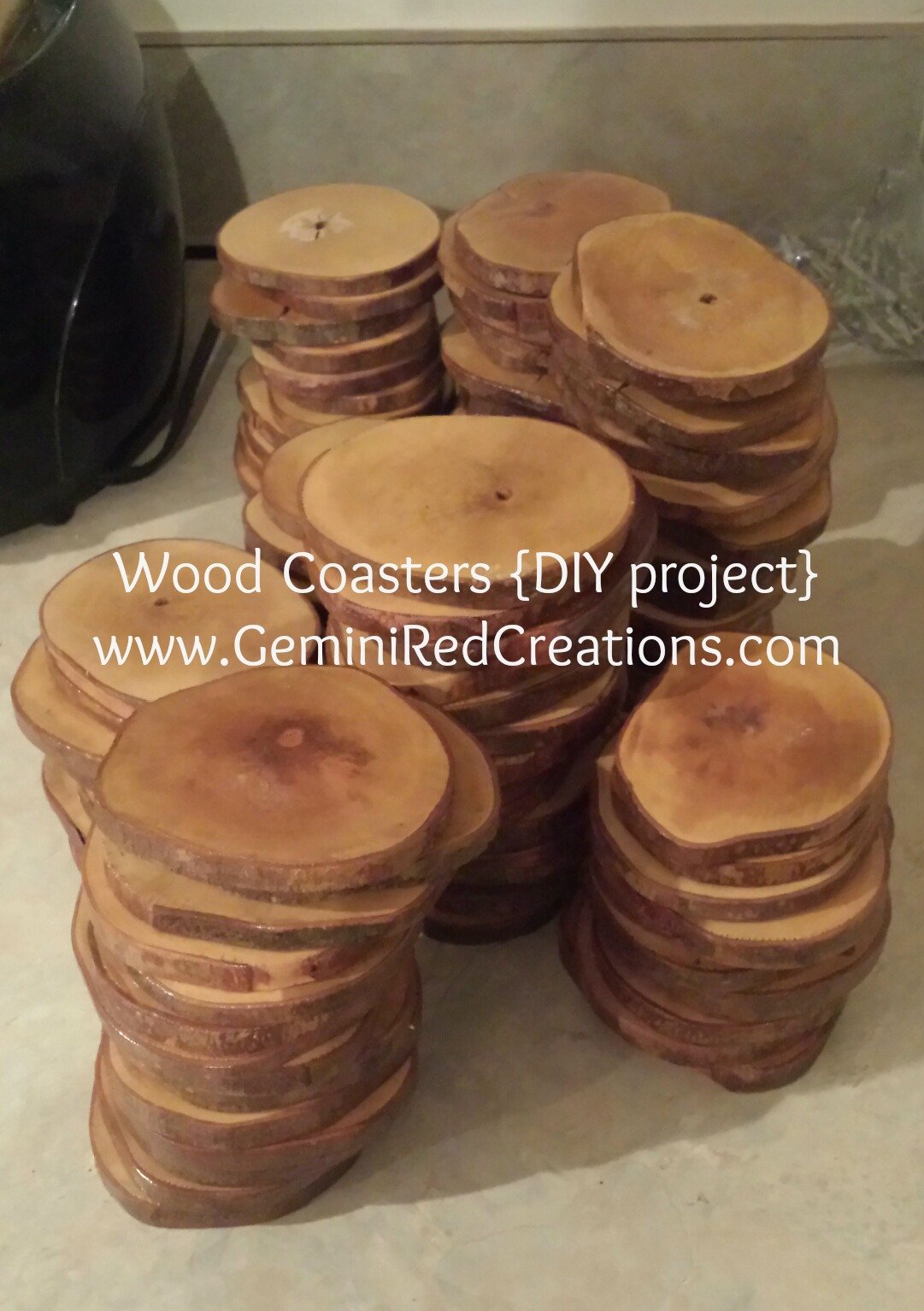 When I started thinking about favors for my wedding, I knew I had to make my own. I wanted the favors to be a reflection of my love of nature, creating things, and wood. I searched and searched for "natural weddings" and "DIY favors." I finally came across a blog of nature type gifts that a friend showed me and they had a picture of wooden coasters. WHAT! Coasters made out of a tree!? Yes, please. The only downfall was there was no tutorial. I knew I was on my own, but I convinced my future hubby that this was a MUST, and we set out on the DIY-favor journey together. Romantic, right? 😉
The story of how we got all of the wood to do this is sort of amusing. We had a tree in our backyard that just wouldn't thrive. It lost all of its leaves and never really grew any new ones. We decided that would be perfect to cut down and make some coasters with. We used up the entire part of the trunk that was the right size for coasters and ended up with about 10 coasters.
Uh oh.
The reality sunk in – we either need a plan B, or we need to find some more dead trees. We put it aside and figured we'd figure it out at some point. We went night fishing a few nights later and on our way home, we passed a huge pile of wood on the side of the road! We're not sure where all the wood came from, but it appeared a business had cut all of their trees down, sawed them up to be about 3 foot long pieces, and stacked them on the side of the road! We grabbed so many pieces of that wood. Just when we thought we had enough, we went back and grabbed more "just in case."
Here is our pile of wood after we had made most of our coasters. Did I mention we grabbed a BUNCH of wood?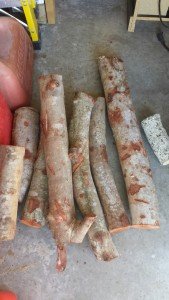 The first step was cutting the actual coasters. We used our miter saw and cut (roughly) half inch thick slices of wood. It was definitely a challenge to cut a natural tree trunk into perfectly level pieces. I may or may not have left the cutting part of this to hubby (future hubby at the time).
*FAIL ALERT* The first go-around, we cut about 80 pieces of wood, sanded them a little, and stacked them up in the garage. We felt so accomplished because we started the project – yay! We went back a few days later to start the staining process, and to our utter horror, almost all of the wood had warped. Word to the wise – wood warps. A lot. If it's not sealed, it will dry out and the wood will lose its shape. With each coaster that we threw away, I felt a little bit like crying. Time to take a deep breath and keep on keepin' on… (I was so discouraged by this that I forgot to take pictures of the warped coasters!)
Round 2! We decided to do fewer coasters at a time, and do a new batch every weekend until we were done. We cut about 50 slices of wood and sanded them. We took turns because this project took much longer than we anticipated. We sanded the entire rim and both sides to make sure they were as smooth as possible. Make sure you don't ever over-do your hands! I always try to take breaks between sanding so my hand isn't constantly vibrating.
Here's my handsome hubby sanding coasters. Can you see all of the wood debris in his hair from cutting coasters? Lol! Nothing cuter than a guy working on wedding favors!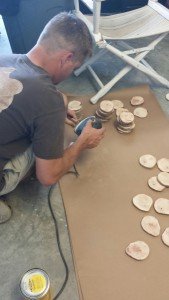 After we had them all sanded down, we laid them out to begin the staining process. A few of them cracked, but we kind of liked it. We thought it added a rustic charm to them. We're hoping our wedding guests agreed with that!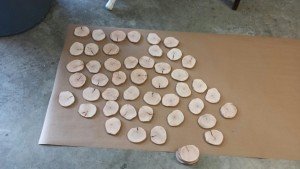 By the way… this is NOT a neat project. You will get messy. Your garage floor will get messy. We layered thick kraft paper underneath the coasters, but the stain has a mind of its own sometimes! I love this next picture because it really shows the hard work that goes into this project 🙂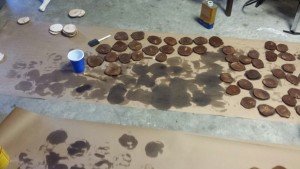 We did one coat of stain on either side of the coasters. We used Minwax Golden Oak stain and Rustoleum water based Polyurethane (much easier clean up than oil based!).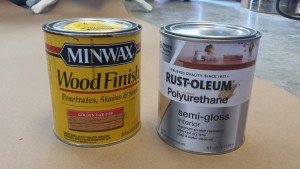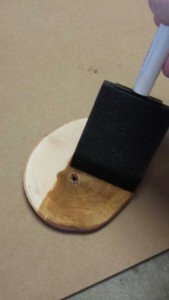 I loved how the stain brought out the natural grain and rings in the wood. It made me so happy!
After the stain, we applied three layers of polyurethane on both sides of the coasters. This can be time consuming because you have to wait until each layer is dry to turn all the coasters over and do the other side. Then you do it again…and again….and again… and… well, you get the point. If not, the material that the coasters are sitting on will stick to the coaster while the polyurethane dries. In our case, we had to sand several coasters down after they got kraft paper stuck to them.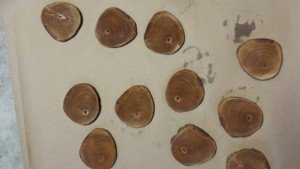 If you use water based polyurethane, it can have a "milky" appearance to it when you apply it. Don't worry, it dries completely clear. Here's how it looks when you first apply it.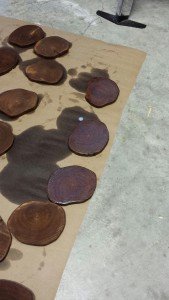 As I mentioned, we gave ample time for each coat to dry so we could turn them over and apply multiple coats. After we completely finished all of the coasters, we stacked them up inside until the wedding. It was sort of fun to look at them in disbelief at the work we put into it. We noticed that the stain lightened up over time, which we actually really liked! Nature does so many awesome things 🙂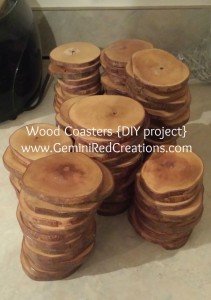 I made tags to put on the coasters with my Silhouette Cameo and I was so proud of the cute little saying I came up with. A friend helped me design the wording, and then I cut them all out in a fun shape. My sister put a pearl on each tag. I kept just staring at the finished tags in total excitement. It's the little accomplishments that make a future bride happy 😉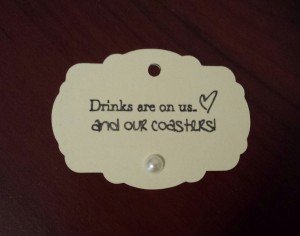 My bridesmaid came over the night before the wedding and tied all of the tags onto the coasters with some twine. Actually, she and hubby did it. I wish I could say I did it all myself, but I took all the help I could get the night before the wedding!
So… here they are. They are exactly what we wanted to give everyone. The finished product could not have been more perfect (in my opinion!). They looked so cute with all of the other table décor. It was a LOT of work, but it was so worth it. I got a lot of positive feedback on them – I think most everyone loved them!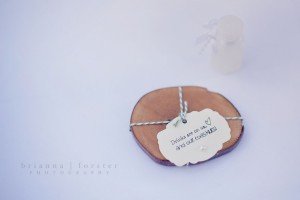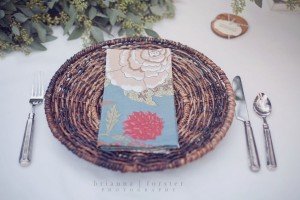 Aren't those pictures great? Our wedding photographer, from Brianna Forster Photography, was just phenomenal. She left us speechless with her talent. Check out all of her amazing work! 
We learned a lot during this project (like how to work together, take lunch breaks even when we want to keep working, stop our hands from vibrating…oh wait, they weren't vibrating, it just felt like they were!) and we are so proud of the finished product. If you plan on doing coasters for a large amount of people, give yourself plenty of time, be patient, but most of all, HAVE FUN WITH IT! 🙂 And prepare yourself to be really excited about the finished product!