I missed the boat last Halloween (2014) when it came to sharing this information.  So, hopefully it is just as pertinent to everyone now.  My full-time employer tries to encourage all employees to "go green" whenever possible by recycling, not printing unless you absolutely have to, and much more!  I know it's only August, but better to plan ahead if you want to Go GREEN this Halloween!
I found this information to be interesting – especially to those with children at Halloween.
Holidays provide a great time to gather with friends and family. While celebrating these special occasions, why not celebrate the environment as well?
Halloween is a favorite holiday for many, but this spooky day has a negative impact on the environment that can be a lot scarier than witches, ghosts and goblins. Here are some tips* on how to green your Halloween.
Eco-friendly Halloween costumes
In 2012, 41 million kids went trick-or-treating, according to the U.S. Census Bureau. That's a lot of costumes — not to mention the packaging they come in.
Tip: Have other parents over for a "costume swap" or check out your local thrift shop for ghoulish vintage hand-me-downs.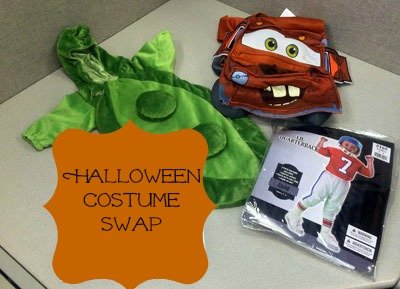 Use homemade, natural decorations
The store aisles are overflowing with decorations to put your home in the mood for Halloween.
Tip: Instead of spending your money on these decorations (many of which are made of plastic), head outside for decorations with an autumn flair and shop at your local farmers markets for gourds, pumpkins, cornstalks, hay bales and Indian corn bunches.
Bonus tip: You can also make decorations using recyclable materials like cardboard, newspaper and aluminum foil.
Make the most out of your pumpkin
Tip: Buy your pumpkin from a local farmers market, and don't forget to save the seeds when you hollow out your jack-o-lantern! Roasted pumpkin seeds are an easy, healthy snack.
Bonus tip: Most commercial candles are made from paraffin, so opt for a beeswax candle to light your jack-o-lantern.
Bonus bonus tip: When Nov. 1 rolls around, start composting by adding your jack-o-lantern and other biodegradable waste to your compost bin.
Green Halloween treats
There are many companies that specialize in healthier alternatives to traditional candy.
Tip: Pass out organic candy and satisfy your sweet tooth without compromising your health. Or avoid candy all together and pass out small trinkets like pencils, stickers, seed packets, temporary tattoos and other treasures.
Party smarter
Make your party green from the very start:
Avoid paper invitations by using a free online invitation service. (evite or even Facebook)
When shopping for food for your party, always bring your own cloth or recycled bags and look for food that is organic and local.
A great party activity is making your own treat bag. Instead of buying the bright orange jack-o-lantern pail, why not let your party-goers decorate used pillow cases to make unique and green treat bags?  Remember the muslin bag tutorial I shared recently from Sabrina?
Keep it going beyond Halloween!
Just a few small changes in your lifestyle can have a large impact on the environment.
If you are ready to implement a recycling center at your home you could try these great bins from Amazon.
Source
* Tips provided by CelebrateGreen.net.
Do you have any great "green" ideas for Halloween or at home in general?
This post contains affiliate links, and I may be compensated for any purchases made via that link. GeminiRed Creations 
disclosure policy
.