Have a simple little white top, some cute (but un-decorated) pony tails. or some sandals that could use a touch of fun?  Then, you know why I say "Everything is Better with a Bow!"
Pick Your Plum is at it again with super cuteness for your little cutey!  Make hair ties, decorate a t-shirt or sandals – do anything with these little bows and everyone is sure to smile from cuteness overload!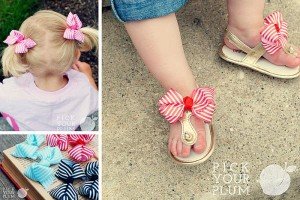 Be sure to stock up on this great deal and get creative with bows!  6 bows for $2.99!!  Shop now at Pick Your Plum!!
This post contains affiliate links, and I may be compensated for any purchases made via that link. GeminiRed Creations 
disclosure policy
.