I was compensated for this post and this post contains affiliate links, and I will be compensated if you make a purchase after clicking on my links.
We have turned the calendar to a new year and some of us would like to be in a better finanical situation this year. There are so many ways to earn extra income these days, but if you like jewelry and accessorizing, maybe you should consider how to earn income with Stella & Dot.
I definitley have my fair share, and then some, of jewelry pieces and I absolutely love a beautiful unique piece! When Stella & Dot comes out with each new launch I get so excited to see what's in this season. Stella & Dot has launched their new stylist sign-up and they have a deal that is sure to be worth it for you fashionistas!
Signing up to sell products for any company can seem daunting, but if all of your friends come to you for fashion and accessory advice you should absolutely consider Stella & Dot. They were founded in 2004 and have 14 years of experience behind them to help you be successful in your endeavor. They have far surpassed sales goals and helped many stay at home moms earn a living while setting their own hours and being available for their kids. They have also helped women earn additional income on top of their day jobs while doing something fun that they love!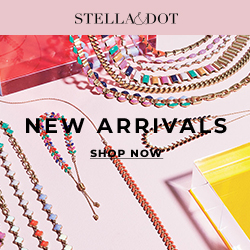 From January 8th – February 5th, if you sign up as a Stylist with Stella & Dot you will recieve an additional $150 worth of bestsellers, totaling $500. To make this deal even better starter kits will be available for a down payment of as little as $99. The remaining balance of $100 for the starter kit will be waived when a Stylist sells $1,000 in the first 30 days! Sign-up as a Stella & Dot Stylist for $99 today!
Not ready to make the committment to become a Stylist? Don't worry – you can still shop! Shop Stella & Dot New Arrivals Today! A couple of my favorite items include the neutral braided Waverly Petite crossbody bag and the Namesake Alphabet sterling silver pendant.