Welcome to the New Year's Rockin' Cash Giveaway! I've teamed up Oh My Gosh Beck! and Shopaholicmommy and other awesome blogs to give our readers the chance to win $200 Cash this month!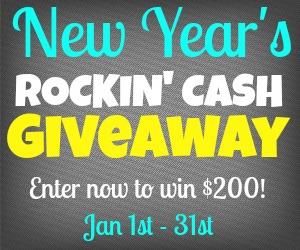 You'll have the month to complete your entries and don't forget that there are daily entries as well! The more you enter, the better your chances of winning.
Giveaway is open worldwide and ends January  31st at 11:59 PM EST. Good luck!
You do not want to miss this opportunity…you know you all have at least one bill you want to pay off from all the shopping you did this holiday season or that one thing you hoped you would get and it's still on your wish list…enter to WIN and your dreams just might come true!!