Recently a friend on Facebook shared this yummy sounding recipe. I convinced my mom to try the since I don't cook can barely boil water. Turns out…I might have been able to figure this out, with the exception that my mom didn't have Hidden Valley Dressing Packet (is that Ranch, I wonder?) or garlic powder. So she improvised (which I would have never done). Here's the regular recipe as posted…
1 Cup oil (I used canola, and not quite a cup)
1 package Hidden Valley Dressing Packet
2 tsp garlic powder
1 tsp cayenne pepper (BUT~the original recipe called for 2 tsp, but I wouldn't have been able to eat them.)
16oz bag of pretzels 

Mix the oil, dressing, garlic powder and cayenne together, pour the pretzels in a gallon size ziplock bag, pour the oil mixture over them, mix up really well. Pour out onto a baking sheet (with sides) and bake at 200 degrees for an hour, mixing every 10 minutes or so. They are sooooo good!!!
My mother's improvisation…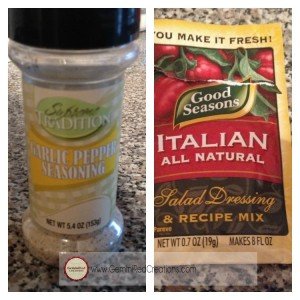 Now, I should point out that I'm a wimp when it comes to *hot* food and the cayenne pepper has quite the kick!  So beware!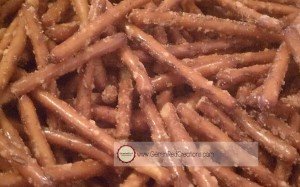 These would be great to bring to a holiday party or potluck!  Do you have any great recipes to share?
[inlinkz_linkup id=352079]