I'm boring…I'm just going to put that out there! I live on the 2nd floor of my parents home which consists of 2 full baths, a bedroom, my sewing/craft room, and an in home office with 2 desks. The office was painted a deep red when we first moved in so it would be more androgynous because the plan was for my step-father and I to share the office (that lasted less than a year). I love red so I love it anyway! I now use his desk as my work from home (WFH) desk on the days I am able to forgo the commute through metro-Atlanata traffic and my desk is for my personal/GeminiRed stuff.
Well, aside from the excitement of the red walls in the office there is no color on the walls anywhere. When I decided to paint the walls a couple of years ago I chose a beautiful Pearl. Yep…Pearl. Boring, boring Pearl – so basically Off-White. The official name is 'String of Pearls' – does that make it sound less boring? I made myself feel good about it because that meant I could change-up my bed linens, my bathroom accessories and my sewing/crafting room could have just about anything on the wall (oh…I should mention its original purpose was my library/sitting/reading room).
Here are the boring walls…Maybe not horrible boring since I have some color on the walls.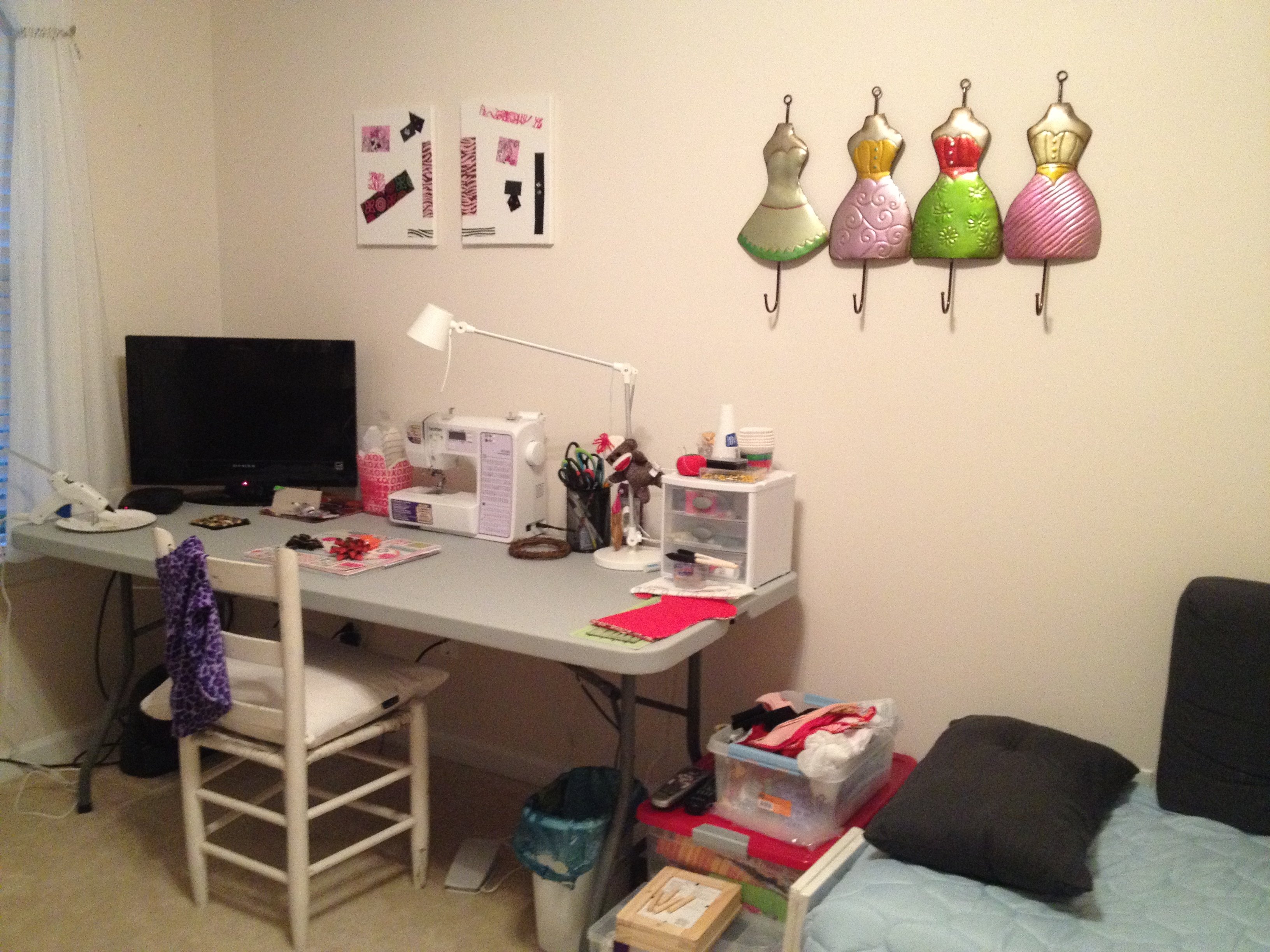 The room itself is much different from this picture as I've rearranged numerous times getting it "just right" so my creativity can flow. And in recent weeks I decided I really need to give that room a bright and cheery transformation so I started thinking of painting the one wall you see in this picture – it's the first wall you see when coming up the stairs and when you enter the room. My initial thoughts were to get something in either the purple or orange family. That met with some scrunched up noses when I brought it up with others.  So, today I took a little walk through the paint aisle at Lowe's and brought home some swatches.
I decided to go with the only color in this grouping that wasn't part of the "family" of colors shown.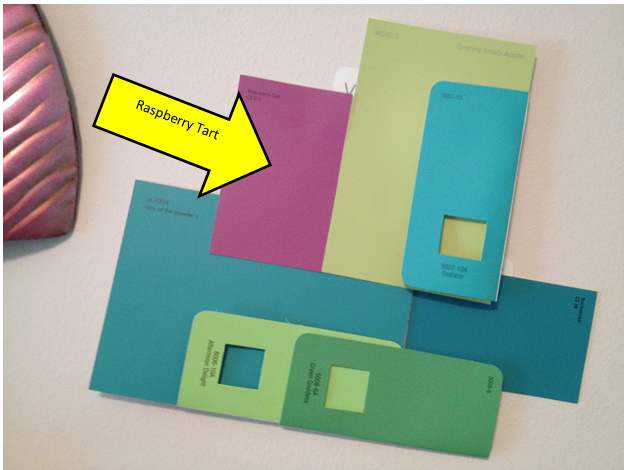 One of these things is not like the other – one of these things DOES belong! I have chosen Raspberry Tart (and if you look to the left you will see that it might actually be a nice contrast with the metal dresses I have hanging up over my sewing table). I'm pretty excited and can't wait to see the finished look. However, I have to wait until after I return from my road trip to CT and back. My mother and I take an annual drive (well, I drive and she rides) to CT to visit my now 90-year-old grandmother. It's a long trip, but as soon as I get back I plan on throwing on my painting clothes and transforming that room!  Can't wait to show you the finished look!